Home

eFareQuest

eFQ-Supplier
eFQ-Supplier
for Travel Suppliers:
It's time for the travel suppliers to meet the demands of the changing marketplace by integrating their travel expertise with the information technology. eFQ-Supplier keeps the complex technology in the back-end to forefront the easy to use web-based application with administration and client interfaces that will increase the control and provide suppliers with better cost savings.
eFQ-Supplier helps consolidators to analyze their day-to-day activities and effectively administer their accounts. Suppliers can access important analytics and reports, change carrier rules, create service requests, get agency and account information, and schedule tasks.
How travel suppliers can benefit from eFQ-Supplier?
Quality Assurance:
Streamline and automate tiresome manual travel reservations to reduce errors and costs. Ensure best possible PNR superiority and feasibility to improve customer satisfaction and client retention and cut expensive costs due to overlooked ticketing.
Auto-Booking:
Decrease agent handle time, simplify operations, and save money by automating the ticket booking process. eFareQuest allows suppliers to automatically send itineraries, notifications, reservation status, and other real time valuable information to travelers.
Agent Management:
Manage agencies and customers with one tool, eFQ-Supplier - to stabilize workflow, assign tasks, and supervise service levels. Agency processes can be prioritized, and automated to handle tedious jobs like exchanges, refunds, cancellations, schedule changes, and misplaced ticket requests.
eFQ Solutions
Sales Inquiries
Required fields are marked with an asterisk (*).
Request Demo
Required fields are marked with an asterisk (*).

eFQ-Agent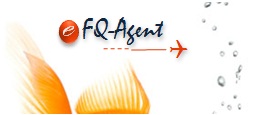 eFQ-Agent: for Travel Agencies:
Attract new customers by integrating technology to the existing traditional travel business - eFQ-Agent helps agencies to become a hosted travel agency. It allows businesses to do everything they need to do to meet the needs of its customers while still being in control of their business. More Info